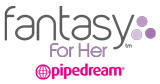 It's All About Her Pleasure!
An ultra versatile dual stimulation vibrating silicone dong that is designed to perfectly target your erogenous zones like your g-spot with hands-free precision. With 11 intense vibrating functions, a powerful suction-cup base, and dual motors, there's a lot to love about the Pipedream Toys Fantasy For Her Duo Pleasure 11-Function Rechargeable Dual Motor Silicone Wallbang-Her Massager! There is one button that turns on the strong motors and cycles through the eleven intense pleasure functions, while the incredible grip of the suction-cup base holds the rabbit-style vibrator securely in place, providing thrilling stimulation right where you want it. The Duo Pleasure Wallbang-Her has 5 inches insertable with a shaft that starts at a nice 1.5 inch width and tapers in to 1.125 inches along the shaft. There is a flexible 3 inch long clitoral stimulator that that is 1.1 inches wide so it makes full contact with your pleasure button. Guys can even use this with the external arm pleasuring the perineum while the shaft targets the p-spot or prostate.
The powerful 2.75 inch wide suction-cup base sticks to nearly any flat surface including shower tiles, walls, floors, countertops, and tabletops. The Fantasy For Her Duo Pleasure 11-Function Rechargeable Dual Motor Silicone Wallbang-Her's easy control just turns so you can adjust the speed to your liking even in the dark. Choose a speed that's right for you and let the powerful vibrations whisk you away! The sturdy suction-cup doubles as a harness-compatible base that remains snug in its place even when the action heats up. Wear this vibrating dildo with any strap-on harness for the most comfortable and realistic strap-on experience! Insert the required batteries, screw the base completely on until it's tight, and the vibe will immediately turn on to offer powerful vibrations for the most intense orgasm you've ever imagined! This vibe uses rechargeable batteries that can charge using most any USB charge port so you can save the planet.
Her fantasies often had her yearning for an incredible sexual experience where her clit would be pampered with extraordinary vibration and her G-spot would also have its own intimate vibrating rewards–she knew the intensity of the dual sensations would deeply satisfy her with a pleasure she'd only imagined. Until now. She had discovered the Duo Pleasure Wallbang-Her and was trembling with excitement, giddy to try it for herself. The amazing grip of the suction-cup base held her Wallbang-Her securely in place on her bedpost. This allowed her to passionately grind on it and thrust against it as she easily pressed the power button again and again to experience every powerful vibration pattern possible. Dampness moistened her inner thighs as she felt the internal motor massage her G-spot and the external motor pleasingly tease her clit. She surrendered herself into intoxicating delight as a deep orgasm rippled through her. The impressive combination of internal and external vibration had allowed her to reach the full potential of her pleasure.
This Pipedream Product is made of realistic feeling Elite Silicone that is virtually seamless for a smooth feeling when using on yourself or your lover. This Wallbang-Her works best if you use a good quality water-based lubricants like the Moist Lubes by Pipedreams that is included for a truly wild ride. The clear sleeve is removable for easy cleaning, simply unscrew the top ring to remove the sleeve, carefully wash the sleeve with mild soap and water or try the Toy Cleaner for even quicker cleanup. Store this toy separately from other sex toys.
Color: Purple
Materials: Elite Silicone, ABS Plastic, Metal
Length: 6.9 inch(overall), 3 inch(external clitoral stimulator)
Insertable Length: 5 inch
Width: 1.5 inch(tip), 1.125 inch(shaft), 1.1 inch(external clitoral stimulator), 2.75 inch(suction cup base)
Powered By: Rechargeable Batteries with USB Charge Cable
Weight: 8.5 oz
Additional Information: Multispeed, Multi-Function, Vibrates, multiple functions, Phthalates Free, Water Based Lubricant Recommended
The Fantasy For Her collection is a seductive sampling of high-end pleasure products designed to target and stimulate Her most sensitive erogenous zones. Inspired by the woman who wants total control over Her own personal pleasure, each intimate design was developed by our in-house sexologist to encourage sexual empowerment and provide intense satisfaction.
2 Motors Offer Powerful Vibration Internal/external vibration combination for incredible pleasure. Suction-Cup Base Provides Sturdy Support Holds the Duo Pleasure Wallbang-Her securely in place exactly where you want it. 11 Intense Vibration Patterns Both motors provide whisper-quiet intimate stimulation at the press of a button.